| | |
| --- | --- |
| It is collaboration business of Odori, Shinjuku mall union member and Shinjuku-ku, Shinjuku police station, Tokyo Electric Power, TOKYO GAS, Nishikyo Shinkin Bank. We plant flower of flower bed on Shinjuku Street to Shinjuku Station east exit station square - Shinjuku Imperial garden Odori and change. | |
| | |
| --- | --- |
| | We develop exercise with o important point aim "pushing forward bright community improvement that prevents crime and delinquency, and support person who committed a crime and young recovery that fell into delinquency, and said" "lively" as reinforcement period of healthy upbringing activity. |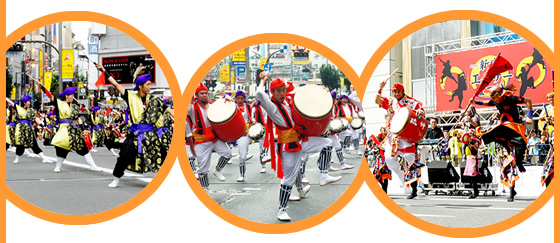 "EISA festival" that is performed as ceremony that sends ancestral ghost out in Okinawa in Bon according to the old calendar, and prays for my wife security and prosperity. We put together for drumbeat to be the large small and various positions such as Japanese dancing of simple style and sanshin, chorus, buffoon of man and woman cross big file and dance in town and turn around. Traditional event of this Okinawa that was famous nationwide came to be practiced Tokyo, Shinjuku and became summer feature of Shinjuku now.

By Odori mall sponsorship event, we carry out several times a year of cleaning to Shinjuku 2 chome intersection along Shinjuku Street from the Shinjuku station square.
| | |
| --- | --- |
| | We train by east exit field headquarters setup and administration, intelligence transmission training, injured person-adaptive training in solidarity. |
・ Shinjuku CLEAN campaign
Campaign that ・ littering hosted by Shinjuku-ku is prohibited in
・ Shinjuku-ku early-morning year-end clean strategy
・ night noise patrol
・ environment purification
nado various event, activities are carried out in Shinjuku main street.