| | | |
| --- | --- | --- |
| Heal | | Talk |
Medical corporation corporation order Masae Hirooka clinic

(ryohojinshadanjunseikaihirookakurinikku)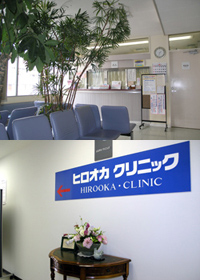 Shinjuku Imperial garden is near, and we establish clinic along Shinjuku street which the convenience to transportation has good, and more than ten year, we try hard already to provide high quality medical care trusted by always local.
Our clinic establishes foreign medical treatment section in floor on the third floor and treats outpatient department that made full use of tip medical care that is kind to no person in "clinic Nara" including thermotherapy to treat hyposensitization and prostatomegaly of Pollinosis in a day. Furthermore, we add examination center to floor on the fourth floor, and be prepared, and quick and precision inspection and detailed explanation by the medical attendant teach rich examination menu which accepted purpose from group medical examination of company to clinical survey. We do introduction to "medical institution specialized in altitude" other than treatment at our hospital as needed by any chance when disease is detected. In addition, for "lifestyle-related disease," we perform "kinesitherapy" or "nutrition instruction" other than medication treatment in cooperation with "Chuck Wilson health counseling center". In addition, we perform check of "mental health" (mental health), and the specialized staff copes for the prevention, early detection, treatment of psychological disorder. Furthermore, for aging problem that will worsen still more, we will judge individual aging degree properly in future and perform instruction that we put together in mental and physical state of each one including mental health care and "anti-aging medical care" treating.
Homepage
http://www.h-cl.org/
Address
Building 3.4 floor in front of 2-3-11, Shinjuku, Shinjuku-ku, Tokyo Tokyo Tatemono Imperial garden
Map
Access
It is 2-3 minutes on foot from Toei Shinjuku Line "Shinjukusanchome Station" subway Marunouchi Line "Shinjuku-Gyoemmae Station"
It is 5-6 minutes on foot from subway Marunouchi Line "Shinjukusanchome Station"
It is 7-8 minutes on foot from the JR Line "Shinjuku Station" east exit, the south exit, the new south exit
TEL
03-3225-1666
FAX
03-3225-1670
Medical treatment time in
Weekdays from 8:45 a.m. to 12:30 from 14:00 p.m. to 16:30
It is closed the office in the afternoon on Saturday for from 8:45 a.m. to 12:00
Closing the office day
Sundays and holidays
●Information for foreign medical treatment
Reception desk of general foreign medical treatment is the third floor. Internal medicine, surgery, circulatory organ department, allergic course, we treat orthopedics, digestive organ department, the urology department as specialized outpatient other than the pediatrics, dermatology.
In addition, we give kinesitherapy with rehabilitation by physical therapist and specialized sweat shirt. Please feel free to contact.
●Information for medical examination, dock
| | | |
| --- | --- | --- |
| | | Various medical examinations and reception desk of clinical survey are the fourth floor. At Hirooka clinic, we have broad range of medical examination menu from simple medical examination to various exact docks and support your healthy living. |
●Main medical examination item and contents
| | | |
| --- | --- | --- |
| [general medical examination] One without anamnesis and subjective symptoms that are special in one younger than 30 years. It is entrance examination, medical examination for test for employment. Blood test is not included. | | 5,000 yen (tax-included 5,250 yen) |

| | | |
| --- | --- | --- |
| [employment medical examination] It is medical examination that covered all legal inspection items at the time of the employment of company. General medical examination increases electrocardiogram and simple blood test. | | 8,500 yen (tax-included 8,925 yen) |

| | | |
| --- | --- | --- |
| [lifestyle-related disease medical examination] It becomes inspection item for the purpose of early detection of lifestyle-related diseases such as hypertension, heart disease, digestive organ disease, respiratory illness, diabetes, hyperlipidemia, gout and is most suitable for periodic medical examination of company. | | 22,000 yen (tax-included 23,100 yen) |

| | | |
| --- | --- | --- |
| [dock] We examined abdominal ultrasonography, examination for eyeground, intraocular pressure, breathing function, rectum for lifestyle-related disease medical examination (rectal cancer, hemorrhoids, prostatic hypertrophy) and increased the bone density measurement (osteoporosis). | | 38,000 yen (tax-included 39,900 yen) |

| | | |
| --- | --- | --- |
| [exact dock] Dock increases four kinds of tumor marker (CEA, CA-19-9, PSA/SCC, α FP: serodiagnosis of cancer), expectoration cytodiagnosis (examination of lung cancer). It is general and exact medical examination in our hospital. | | 48,000 yen (tax-included 50,400 yen) |

| | | |
| --- | --- | --- |
| [circulatory organ dock] It is medical examination that squeezed target for circulatory organ diseases such as high myocardial infarction and angina, arrhythmia, arteriosclerosis of death risk attacking generation in prime in particular. | | 35,000 yen (tax-included 36,750 yen) |

※When the enforcement of circulatory organ dock is hoped for at the same time in one that receives dock, exact dock, we carry out in special price 25,000 yen Japanese yen (tax-included 26,250 yen Japanese yen).
※As we can add various kinds of inspection, toward the hope, please consult about HIV (examination of AIDS), gastrocamera, examination of large intestine barium contrasting, VDT, perigee inspection. (there becomes an extra charge)
※As person wanting gynecology examination introduces specialist, please report.
※We accept dental check up by company unit.